Tesla Paint Protection Film Options in Salem, New Hampshire
If you own one of the Tesla Models you are very fortunate and likely want to protect it and keep it looking as good as possible. However, you bought it to use it, so how do you use it and protect it at the same time? With the Tesla paint protection film available from XPEL that we install at Cover Up Solution.
However, this is not a one size fits all solution. As you will see below, we offer protection that ranges from basic wear and tear all the way up to full-body coverage. We also offer a gloss paint protection that is hard to even detect on the vehicle as well as a matte paint protection that is designed to not only provide protection but give your vehicle a unique satin look. Before we get into that though, let's look into what this film can actually do.
What Is Paint Protection Film?
Paint Protection Film is a high performance clear-coat film, specifically designed to protect automotive paint, and other surfaces, from contamination, UV rays, minor chips and abrasion. XPEL, the leader in the industry, makes XPEL ULTIMATE PLUS and XPEL STEALTH, both engineered from a combination of advanced elastomeric polymers that prevent the film from discoloring and heals itself from swirl marks and light scratches that occur through ordinary driving and washing of your vehicle.
XPEL Ultimate Plus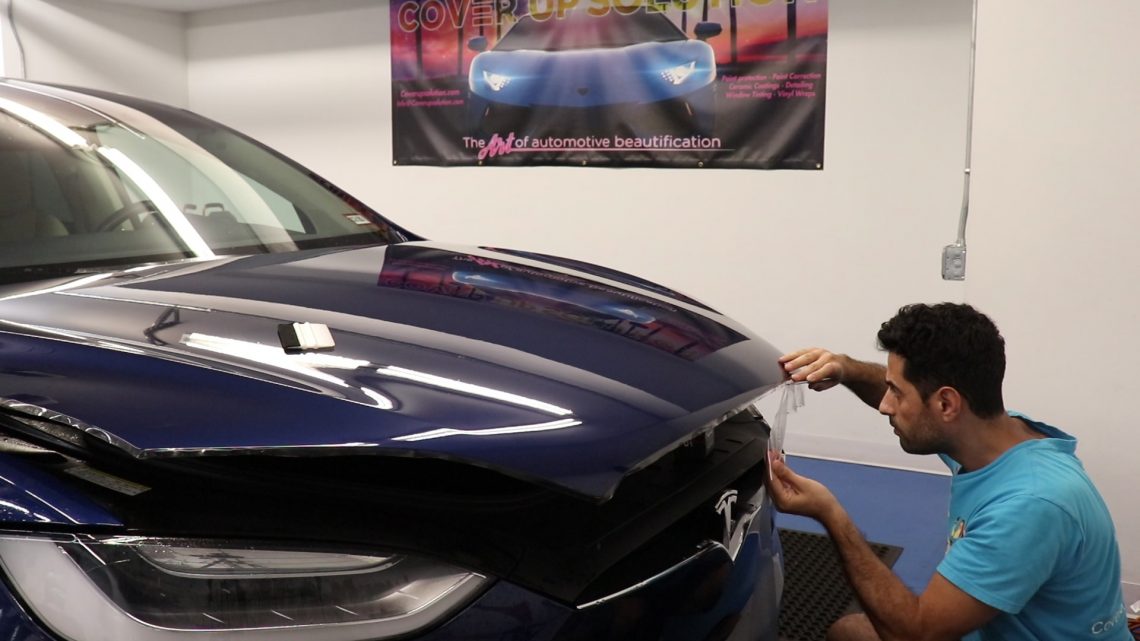 This film raises the bar once again with an unparalleled high gloss finish and improved impact protection for enhanced durability, making it the most advanced paint protection film on the market. Here are some of the key features of this innovative paint protection film.
Self-Healing – When exposed to heat, the enhanced clear coat properties eliminate fine scratches and swirl marks over time.
Stain Resistance – Road grime, bird droppings, bug guts, and air pollution will never leave the film stained or yellow, unlike lower quality alternatives.
Mirror Smooth Finish – Protection should be indistinguishable from factory paint.

 

Durability – XPEL ULTIMATE PLUS features superior impact protection for whatever stands between you and the open road.
Warranty – Built to last. XPEL ULTIMATE PLUS is backed by our comprehensive 10 year warranty, ensuring your vehicle looks its best for years to come.
XPEL Stealth
Finally, a paint protection film specifically formulated to preserve a flat factory finish or provide a factory matte appearance. As smooth as satin. Whether your vehicle is matte, magno, frozen or frosted, self-healing XPEL STEALTH will keep it looking effortlessly pristine. Or, protect your gloss paint with a whole new look!
Sleek Satin Finish – By matching the appearance of factory flat paint, XPEL STEALTH virtually disappears once installed. With a finish that's uniformly smooth, you won't see where protection starts or stops from one panel to the next.protect your gloss paint with a whole new look!
Easy Maintenance – Flat finishes are notoriously difficult to maintain and even harder to repair. XPEL STEALTH enables you to easily wash and dry your car without damaging its sheen.
Self-Healing – When exposed to heat, the enhanced clear coat properties eliminate fine scratches and swirl marks over time.
Custom Applications – Utilize XPEL STEALTH to accentuate gloss aero or carbon fiber, and protect factory flares, splitters, and trim pieces.
Warranty & Durability – XPEL STEALTH features the same superior impact protection as ULTIMATE PLUS back by our industry-leading 10 year warranty.
So, if you have a Tesla, we have the protection and great looks you are looking for. We are your premier Tesla paint protection film source in the in Manchester, Nashua, Andover and throughout the area. Contact us today by calling (603) 235-9319.